Who is a gynecologist?
A gynecologist is a physician who specializes in the female reproductive system. Gynecologists can care for women of all ages, from young girls to postmenopausal women. They are trained to diagnose and treat conditions of the female reproductive system.
---
What condition can a gynecologist help with?
Gynecologists can help with many different conditions, including:
1. Infertility:
A gynecologist can help a woman having trouble getting pregnant. They can offer fertility treatments or refer you to a fertility specialist. Furthermore, gynecologists are trained to diagnose and treat conditions that may be causing infertility. For best Gynecologist in Kolkata for infertility treatment, you can book an appointment with Dr Debalina Brahma. She is a leading IVF specialist in Kolkata and has vast experience managing fertility disorders.


2. Menopause:
In this situation, a gynecologist can provide treatments to help with menopause symptoms like hot flashes and vaginal dryness. In these situations, a gynecologist can prescribe medications to help with menopause symptoms.


3. Hormonal imbalances:
If you have irregular periods, excess facial or body hair, or other symptoms of a hormonal imbalance, a gynaecologist can help. They can prescribe birth control pills or other medication to help regulate your hormones.


4. Polycystic ovarian syndrome (PCOS):
PCOS is a hormonal disorder that can cause irregular periods, excess hair growth, and cysts on the ovaries. A gynaecologist can diagnose and treat PCOS.


5. Endometriosis:
Endometriosis is a condition where the tissue that lines the uterus grows outside the uterus. This can cause pain and bleeding. With the help of a gynecologist, you can manage the symptoms of endometriosis.


6. Urinary incontinence:
Gynecologists can help women who have trouble controlling their bladder. They can offer treatments to improve urinary incontinence. On the other hand, some cases of urinary incontinence may require surgery, and a gynecologist can refer you to a urologist.


7. Pelvic floor prolapse:
Pelvic floor prolapse is when the pelvic organs fall out of place. This can happen after childbirth or due to other factors. Gynecologists can also help women with this condition.
Top Gynecologist and obstetrician In Kolkata: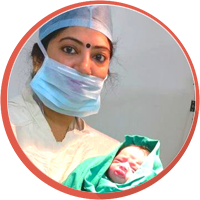 If you are trying to find the best gynecologist in Kolkata near me, then book an appointment with
Dr Debalina Brahma
today. She is one of the best gynecologist and obstetricians in Kolkata, with vast experience and expertise in her field. At Sparsha Infertility Clinic, she provides comprehensive and personalized care to each patient.
Dr Debalina Brahma
is not only an expert in the field of gynecology, but she is also skilled in diagnosing and treating fertility disorders. Additionally, she has completed extensive training in Infertility Management from CMC Vellore.
Dr Debalina Brahma
is a respected member of MCI India, FOGSI, ISAR India, IMA West Bengal, and BOGS West Bengal. This makes her one of the best IVF specialists in Kolkata.
She also specializes in treating various infertility disorders, including Intrauterine Insemination (IUI), In Vitro Fertilization (IVF), Endoscopic surgery, and Normal Vaginal Delivery. With extensive experience managing infertility, Dr Brahma is specially trained in Gynecological Laparoscopy. She's the best leading female gynecologist in Kolkata, highly experienced and has a successful track record.
---
Why book an appointment with Dr Debalina Brahma?
As we said above,
Dr Debalina Brahma
is one of Kolkata's most experienced and renowned gynecologists, Obstetrician, Infertility Specialist. As a Gynecologist Doctor In Kolkata, she provides detailed and individualized care to each patient. Her patients know of her wealth of knowledge in gynecology and up-to-date treatment methods, which is why they travel from Kolkata and other states to see her. In addition, she was awarded the Infertility Fellowship from National University Hospital Singapore (NUHS) and CREST in 2017.
Gynaecology & Obstetrics (gynae and Obst) is the medical speciality that deals with the health of the female reproductive system and breasts. Physicians specializing in this field of medicine are called gynecologists or obstetricians. And Dr Brahma knows very well to perform this role efficiently.
As we know, choosing a gynecologist who is right for you is an important decision. You want someone experienced, knowledgeable, and trustworthy—someone who puts your needs first. So if you're looking for the best lady gynecologist in Kolkata, look no further than
Dr Debalina Brahma
at Sparsha Infertility Clinic.
Frequently Asked Question (FAQs)
An obstetrician–gynecologist (ob-gyn) is a physician specializing in obstetrics and gynecology. Obstetrics is the branch of medicine that deals with pregnancy, childbirth, and the postpartum period. Gynecology is the branch of medicine that deals with the health of the female reproductive system.

An Obstetrician is a medical doctor who has completed training in the field of obstetrics, which is the branch of medicine that deals with pregnancy, childbirth, and the postpartum period. A Gynecologist is a medical doctor who has completed training in gynecology, which is the branch of medicine that deals with the health of the female reproductive system. In other words, we can say that an Obstetrician is a Gynecologist who has completed additional training in obstetrics.

Women need to consult a gynecologist for various reasons right from the beginning of their adolescence. It is essential to have a regular health checkup with a gynecologist, even if you are not facing any problems, to ensure that your reproductive system is functioning well. However, many women are uncomfortable discussing their gynecological problems with a male doctor. In such cases, it is advisable to consult a female gynecologist. If you are looking for a Doctor in Kolkata, you can consult Dr Debalina Brahma, who can assist you with all your gynecological problems.

The American College of Obstetricians and Gynecologists (ACOG) recommends that women have their first gynecological visit when they turn 18 or become sexually active, whichever comes first. After that, ACOG recommends that women have a gynecological visit every year. However, some women may need to see a gynecologist more often, depending on their needs.
Dr. Debalina Brahma at Sparsha Infertility Centre is the best gynecologist in Kolkata. She has over 10 years of experience and is highly qualified. She has a special interest in infertility and offers a range of treatments such as IVF, ICSI, and laser-assisted hatching. Her clinic is well-equipped with the latest technology and she has a team of highly skilled doctors and nurses who provide excellent care to her patients.
There are many places to find a gynecologist near you in Kolkata. If you're looking for a high-quality, experienced gynecologist, I would recommend Sparsha Infertility Centre. They offer comprehensive services and have a team of highly skilled professionals who can help address all your needs. Contact them today to schedule a consultation!
When choosing a gynecologist, there are a few factors you should consider. The most important is finding a doctor who has experience in treating your specific problem. If you're having trouble getting pregnant, for example, you'll want to find a specialist in infertility treatment.
Other important factors include location and convenience, as well as cost. It's important to find a doctor who is covered by your insurance plan. And if you have any special needs or concerns, be sure to discuss them with the doctor before making an appointment.
One final factor to consider is the doctor's bedside manner. You'll want to feel comfortable talking with your gynecologist and trust that they have your best interests at heart.
It can cost anywhere from Rs. XXXX to Rs. XXXX depending on the clinic you visit and the type of services you require.
At Sparsha Infertility Centre, we offer a variety of services starting at Rs. XXXX. This includes a basic consultation as well as a number of tests that may be required. If you need more comprehensive care, our rates start at Rs. XXXX and vary depending on the services you require. We always try to work with our patients to ensure that they receive the best possible care at an affordable price.