Who is a gynecologist?
A gynecologist is a physician who specializes in the female reproductive system. Gynecologists can care for women of all ages, from young girls to postmenopausal women. They are trained to diagnose and treat conditions of the female reproductive system. This refers to a Gynecologist.
---
What is the role of a Gynecologist Obstetrician in women's health?
Gynecologists can help with many different conditions, including:
1. Infertility:
A gynecologist can help a woman having trouble getting pregnant. They can offer fertility treatments or refer you to a fertility specialist. Furthermore, gynecologists are trained to diagnose and treat conditions that may be causing infertility. For best Gynecologist in Kolkata for infertility treatment, you can book an appointment with Dr Debalina Brahma. She is a leading IVF specialist in Kolkata and has vast experience managing fertility disorders.


2. Menopause:
In this situation, a gynecologist can provide treatments to help with menopause symptoms like hot flashes and vaginal dryness. In these situations, a gynecologist can prescribe medications to help with menopause symptoms.


3. Hormonal imbalances:
If you have irregular periods, excess facial or body hair, or other symptoms of a hormonal imbalance, a gynaecologist can help. They can prescribe birth control pills or other medication to help regulate your hormones.


4. Polycystic ovarian syndrome (PCOS):
PCOS is a hormonal disorder that can cause irregular periods, excess hair growth, and cysts on the ovaries. A gynaecologist can diagnose and treat PCOS.


5. Endometriosis:
Endometriosis is a condition where the tissue that lines the uterus grows outside the uterus. This can cause pain and bleeding. With the help of a gynecologist, you can manage the symptoms of endometriosis.


6. Urinary incontinence:
Gynecologists can help women who have trouble controlling their bladder. They can offer treatments to improve urinary incontinence. On the other hand, some cases of urinary incontinence may require surgery, and a gynecologist can refer you to a urologist.


7. Pelvic floor prolapse:
Pelvic floor prolapse is when the pelvic organs fall out of place. This can happen after childbirth or due to other factors. Gynecologists can also help women with this condition.
Top Gynecologist In Kolkata: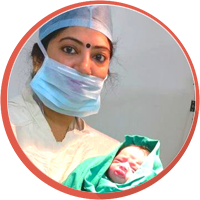 If you are trying to find the best gynecologist in Kolkata near me, then book an appointment with Dr Debalina Brahma today. She is one of the best gynecologist and obstetricians in Kolkata, with vast experience and expertise in her field. At Sparsha Infertility Clinic, she provides comprehensive and personalized care to each patient.
Dr Debalina Brahma
is not only an expert in the field of gynecology, but she is also skilled in diagnosing and treating fertility disorders. Additionally, she has completed extensive training in Infertility Management from CMC Vellore.
Dr Debalina Brahma
is a respected member of MCI India, FOGSI, ISAR India, IMA West Bengal, and BOGS West Bengal. This makes her one of the best IVF specialists in Kolkata.
She also specializes in treating various infertility disorders, including Intrauterine Insemination (IUI), In Vitro Fertilization (IVF), Endoscopic surgery, and Normal Vaginal Delivery. With extensive experience managing infertility, Dr Brahma is specially trained in Gynecological Laparoscopy. She's the best leading female gynecologist in Kolkata, highly experienced and has a successful track record.
---
What is the process of consultation with a Best Lady Gynecologist Doctor in Kolkata?
During a consultation with lady gynecologist in Kolkata, a female patient can expect a thorough review of her health history, including her menstrual cycle, sexual history, contraceptive use, past pregnancies and any prior diseases or treatments. This might also include a physical examination, which could involve a pelvic exam, a breast exam, or other necessary tests.
The doctor might also provide advice on reproductive health, including contraception, family planning, sexual health, early pregnancy care, menopause, and other female health-related issues. Furthermore, regular consultations with a gynecologist help in the early detection and treatment of problems like cancers of the female reproductive system, infertility issues, and sexually transmitted diseases.
Remember that the phrase "best lady gynecologist doctor in Kolkata" is subjective and what is best for one person might not be for another. What is essential is finding a doctor who you feel comfortable with, who listens and responds to your concerns fully and professionally. Your comfort, trust, and understanding are critical elements in a successful doctor-patient relationship.
---
Navigating Obstetrics with Dr Debalina Brahma: Your Pregnancy Partner
Pregnancy is a transformative journey, and having the right obstetrician is essential.
Dr Debalina Brahma's'
expertise in obstetrics ensures that expectant mothers receive comprehensive care throughout their pregnancy journey. From managing common pregnancy-related issues to overseeing high-risk pregnancies, her dedication to maternal and fetal health is unwavering.
---
Why Book An Appointment With Dr Debalina Brahma?
As we said above,
Dr Debalina Brahma
is one of Kolkata's most experienced and renowned gynecologists, Obstetrician, Infertility Specialist. As a Gynecologist Doctor In Kolkata, she provides detailed and individualized care to each patient. Her patients know of her wealth of knowledge in gynecology and up-to-date treatment methods, which is why they travel from Kolkata and other states to see her. In addition, she was awarded the Infertility Fellowship from National University Hospital Singapore (NUHS) and CREST in 2017.
Gynaecology & Obstetrics (gynae and Obst) is the medical speciality that deals with the health of the female reproductive system and breasts. Physicians specializing in this field of medicine are called gynecologists or obstetricians. And Dr Brahma knows very well to perform this role efficiently.
As we know, choosing a gynecologist who is right for you is an important decision. You want someone experienced, knowledgeable, and trustworthy—someone who puts your needs first. So if you're looking for the best lady gynecologist in Kolkata, look no further than Dr Debalina Brahma at Sparsha Infertility Clinic.
---
Convenience and Accessibility: Online Consultation with Dr Debalina Brahma
In a world driven by technology,
Dr Debalina Brahma
embraces innovation to offer convenience to her patients. Her online consultation services provide a platform for individuals to seek expert medical advice without the constraints of physical visits. This digital approach not only streamlines the consultation process but also ensures that medical support is readily accessible.
Addressing Frequently Asked Questions About Gynecology
Navigating the world of gynecology can raise numerous questions, especially for those seeking medical advice for the first time. Here are some of the most frequently asked questions about gynecology, answered with insights that draw from the expertise of top gynecologists:
The ideal time for your first gynaecological visit is usually around the age of 18 or when you become sexually active. Early visits establish a baseline for your reproductive health and provide an opportunity to address any concerns.

Pap smears are vital for early detection of cervical cancer or other abnormalities. Regular screenings can identify issues at an early stage when they are more manageable.

Absolutely! With the advent of technology, many gynecologists now offer the convenience of online appointment booking. This enables you to schedule visits without the hassle of phone calls.